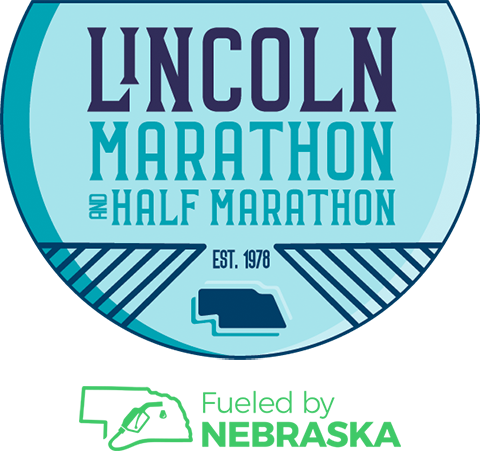 Dear Runner,
The Lincoln Track Club is excited to announce the opening of registration for the 44th annual Lincoln Marathon and Half Marathon. The race is scheduled for Sunday, May 2, and it is being planned as an in-person event with a virtual race component.

---
REGISTRATION INFORMATION
As a paid registrant from the 2020 Lincoln Marathon/Half Marathon, you are being provided the opportunity to register for the 2021 race before it opens to the general public. This early registration period opens Jan. 15 and will remain open through Jan. 31 at 6 p.m. Your in-person spot in the 2021 Marathon/Half Marathon is only guaranteed through the end of this early registration period.
There will be a cap on in-person registrations this year to accommodate COVID-19 related health and safety requirements. Beginning Feb. 1, if there is still room to add in-person runners to the event, registration will be opened to the general public and your in-person spot is no longer guaranteed. That means if you want in to the in-person race, please register during the early registration period.
Also as a registrant from the 2020 race, you are guaranteed 30% off the cost of your 2021 registration if you register before midnight CT Feb. 14. This 30% discount will be provided to you as a coupon code in an email that you will receive from GetMeRegistered, the registration site being used by the Lincoln Track Club for this event. Please ensure GetMeRegistered is on your safe sender email list and look for this email this week.
Those who register between Jan. 15 and Feb. 14 do so risk-free, as there will be a 100% refund option (or deferral to 2022) for those who register by that date in the event the race needs to be cancelled (and that cancellation occurs before April 1) in response to health department directives.
As an alternative to the in-person race, there also will be a virtual race component to the 44th Lincoln Marathon and Half Marathon for those who want to challenge themselves but aren't comfortable competing in person due to health considerations.
Specific race fees associated with both the in-person race and virtual options, refund options and timelines can be found on the Lincoln Marathon and Half Marathon website and should be reviewed carefully prior to completing your registration.
To summarize, as a paid 2020 race registrant, you are guaranteed an in-person spot in the 2021 Lincoln Marathon/Half Marathon but only if you register between Jan. 15 and 6 p.m. on Jan. 31. You also are entitled to 30% off the cost of your race, and that discount is good through midnight CT Feb. 14. You will receive an email from GetMeRegistered with your discount code.

---
COURSE DETAILS 
As you might recall, the 2020 Lincoln Marathon/Half Marathon finish line was planned for a shift from Memorial Stadium to the UNL Ed Weir Stadium track due to work on the football turf. This year, because of Covid-19 impacts, we do not yet have the 2021 course finalized, and we likely will not have a final course outlined until sometime in February.
The Lincoln Track Club apologizes for this uncertainty and asks for your understanding and patience as we address this additional complication that is courtesy of the global pandemic.

---
HEALTH AND SAFETY 
Speaking of the global pandemic, please know there will be health and safety requirements in place on race day. This will include a mask mandate both pre- and post-race, an extended start chute for social distancing purposes and even limited water stops.
There also will not be a Runners' Expo, pre-race pastathon or post-race awards celebration. We know this is disappointing, but these changes are necessary health and safety precautions this year due to COVID-19.
Because there will be no Runners' Expo, we are in the process of determining a new site for packet pickup. We will send more information on this as the race gets closer. However, you will be required to select a packet pickup time as part of your race registration process. This is another necessary requirement to provide for social distancing.
We won't know all the specifics until closer to race day. We appreciate your understanding of the need for flexibility as we adapt our race in this COVID-19 environment. We intend to do all we can to provide for the health and safety of our runners and volunteers alike, while still providing the high-quality marathon and half marathon you've come to expect from the Lincoln Track Club.
---
NEXT STEPS
We are excited for the return to in-person racing for the 44th Lincoln Marathon and Half Marathon. We hope you are too. Please look carefully at the registration matrix provided at this link (https://www.lincolnmarathon.org), determine what the right option is for you, and get registered now!
We will monitor ongoing local health circumstances and stay in touch.
What else do you have going on right now anyway? Lace up your running shoes, get out there, and get training! More details to come. We look forward to seeing you May 2!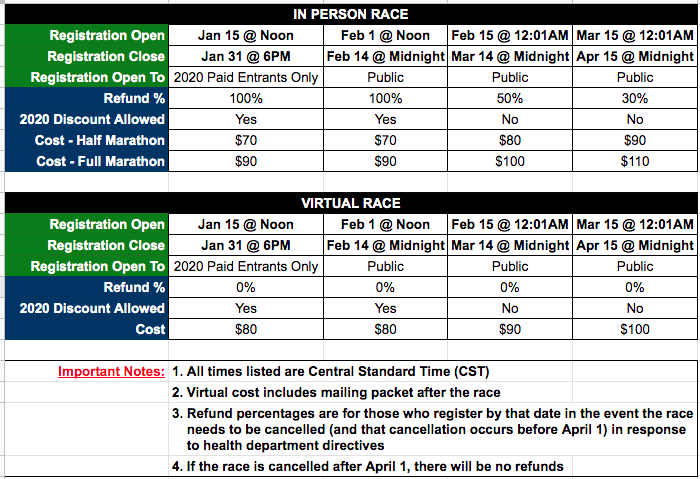 Additional Race Details
We will post additional details in the coming weeks.
If you have any questions, please email us at support@lincolnmarathon.org