Data Last Updated: 5/6/2023 at 9:00PM CDT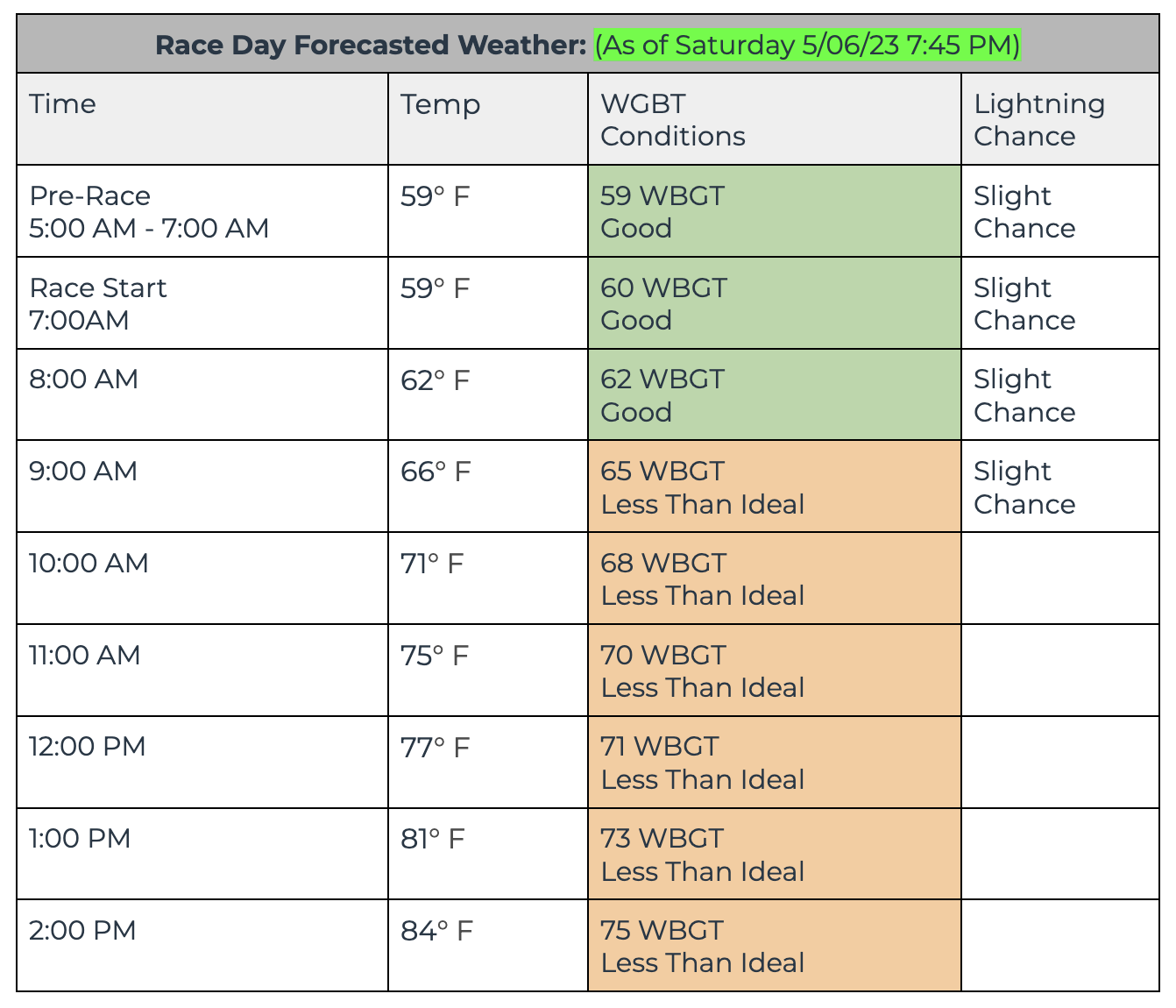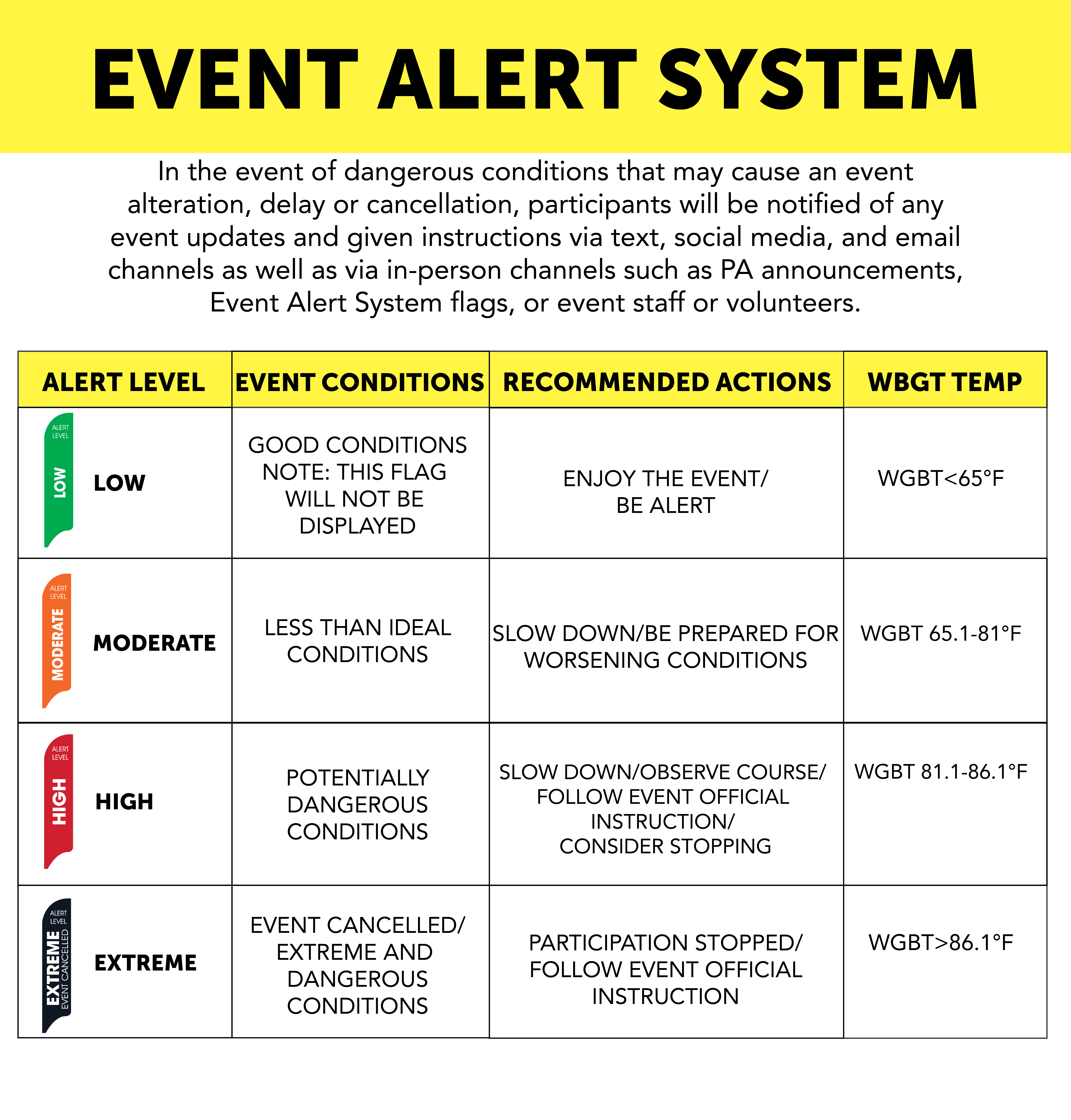 EVENT UPDATE: WEATHER
Currently, the weather for race day is calling for mild temperatures that warm up throughout the morning and early afternoon. For most runners, it looks like good race day conditions.
However, these warmer temperatures, especially later in the morning and early afternoon could lead to less than ideal or even potentially dangerous conditions for some runners. Additionally, there currently is a chance of lightning in the forecast in the morning, as well as in the afternoon after the race. The Lincoln Track Club and our weather partners will be closely monitoring the weather throughout race weekend. 
To communicate race conditions to athletes, we will be using the Event Alert System with color coded flags at the start line, water stations, and finish line. Orange flags indicate less than ideal conditions, red flags indicate potential dangerous conditions and black flags indicate event cancellation. 
Any race updates will be communicated to athletes by text message, event website, in-person announcements from race officials, Event Alert System flags and/or a combination of these channels.
Read on for more information regarding race day weather conditions and safety information.
The Lincoln Marathon uses the Wet Bulb Globe Temperature (WBGT), a measurement of heat stress on the human body, to help educate runners, improve event preparedness and also to make informed event safety decisions. Below is the scale adopted by the Lincoln Marathon and also the current forecast including anticipated WBGT conditions.
Given anticipated conditions, we plan to hold the race as planned. However, we want all runners to be as prepared as possible for the anticipated conditions. Most runners will want to scale back their performance goals and give a safe effort rather than focusing on a specific goal pace. Saturday may not be the best day to shoot for PRs. 
Here are a few notes about running in warm or hot conditions and how to best prepare for race day.
How to prepare for hot weather on race day?
Stay Hydrated:

Stay hydrated in the day's leading up to the race. Then on race day, obey your thirst and drink when your mouth is dry and when you feel the need to drink. Take advantage of the aid stations and take in water and electrolyte replacement drinks on the course and at the finish line. Consider carrying your own bottle of ice water to stay hydrated and cool yourself down. The occasional splash on the head, back of neck, and inside of wrists can help keep you cool.

Nutrition

: Nutrition plays an important role in adverse weather. Have a plan for before, during, and after the race.

Ice, Ice, Baby:

If a friend or family is watching you run. Have them bring you bags of ice to hand to you on the course. Then put the ice on your pulse points (wrist and neck) to cool you down quicker and eat some ice.

Learn more about how your spectators can help keep you cool.
Choose Clothing:

Avoid long-sleeves and pants. Select light colored, moisture-wicking and loose-fitting clothing to help cool yourself naturally. Avoid tight fitting and dark colors that absorb the sun's heat. Consider a visor over a hat and also, sunglasses, and sunscreen as well.

Bag Check & Claim:

Remember, you can wear layers and even a trash bag right up until the start of the race and shed them at race start time or shortly after. Shedded layers will be collected and donated. Have a plan for your gear check bag. Remember, you can send ahead dry layers to the finish line by checking your bag at Cook Pavilion at the start line. You will receive your gear check bag at packet pickup.

Slow Down, Don't push it

: The projected heat and humidity mean that you should scale back your performance goals for race day. Every 5°F rise in temperature above 60°F can slow your pace by as much as 20 to 30 seconds per mile. Focus on appropriate effort levels rather than forcing a goal pace. This may not be the day for shooting for a PR. Slow down, take breaks when needed, and consider walking to the aid stations. Save your hard efforts for another cooler day.

Listen to Your Body

: If you are concerned about the heat prior to the race, consider not starting. There's always another day to run and race. If you start the race and are feeling dizzy, disoriented, have stopped sweating, or your skin feels cool and clammy, then slow down and stop running. Get fluids and consider sitting down in the shade or at an aid station. Seek help if symptoms continue.

Finish Line Shade + Food:

At the finish line, seek the shade of overhangs. Seek food, hydration, and electrolytes.

Shelter

: If emergency shelter is needed, at the start line, runners will have access to Cook Pavilion. At the finish line, athletes will have access to their vehicles and there is also limited shelter at the Champions Club and nearby parking garages.

If emergency shelter is required along the course, utilize the network of aid stations and course monitors for assistance and check

this map

for possible nearby locations to take shelter.

Course Medical Resources:

In the event of an emergency, dial 911. Each aid station will be staffed with a physician to assist runners. We will also have bikers and emergency personnel riding the course to assist you. A SAG wagon is available for runners who need to withdraw from the race. Ask a course monitor or aid station worker for assistance. A Radio Club member will be at each aid station if there is a need to relay a message to the finish. 

Marathoners

: For athletes running the full marathon, temperatures will be warmer as the day progresses to late morning and early afternoon. Remember, it is always an option to choose to finish the Half Marathon at the split point at mile 12.9 on Stadium Drive. Marathoners that do not reach the 12.9 mile split point by 10:15 am will automatically be directed to the finish line to complete the Half Marathon.
==========================================================
What if the Lincoln Marathon is ever delayed or canceled due to lightning or other dangerous weather?
The Lincoln Marathon

can be held in most weather conditions.

That being said, in the event of dangerous or life threatening conditions, there is always the chance the event may be delayed, altered, canceled prior to starting, or canceled after starting. As always, we work closely with Lincoln Police, Lincoln Fire & Rescue and other stakeholders to make decisions based on the safety of runners, spectators, volunteers and the community as a whole.

Should the race be altered, delayed or canceled, we will be in communication with athletes via email, text, social media, event website, in-person announcements from race officials and/or a combination of these channels.
Thank you! We know everyone has trained hard and worked hard for this special weekend. Let's cross your fingers and hope for beautiful race day running weather! We look forward to seeing you Sunday May 7th for a 7:00 AM start time.
Best of luck to all runners,
Lincoln Track Club