About the Course
The Lincoln National Guard Marathon and Half-Marathon is run on a citywide course that starts and finishes on the campus of the University of Nebraska-Lincoln. Runners in both races share a common start and run a loop route past the Nebraska State Capitol, along Sheridan Boulevard, past Union College, along the Highway 2 bike path, past the Lincoln County-City Building and back to the Half-Marathon finish on the UNL Campus. Marathoners then follow an out-and-back route to Holmes Park passing the Sunken Gardens, Folsom Children's Zoo and Antelope Park.
Both courses have been nationally certified by and according to the standards adopted by the USA Track & Field / Road Runners of America Committee on Certification.
Certificates: Marathon=NE10010KU; Half-Marathon=NE10009KU
Marathon times are acceptable for qualifying in the Boston Marathon.
Qualifying times (Net Times) will be automatically forwarded to Boston for entry verification.
Course Directions
Half and Full Marathon
Both races Start on 14th, North of Vine in front of Mable Lee Hall on the UNL Campus. Run South on 14th. Then East on Vine to 16th Street. South on 16th to South Street, east on South until Sheridan Blvd. Sheridan eventually merges with Calvert, turn south off of Calvert onto 48th. Turn west off 48th Street and on to Hwy 2 bike path. Bike path to 20th, north on 20th past Van Dorn thru park to Harrison, west on Harrison to 10th. North on 10th to Salt Creek Roadway.
At Stadium Drive, the Half Marathoners will split off from the Full Marathoners.
Half Marathon
Turn and go south onto Stadium Drive to the southwest entrance of Memorial Stadium. Enter Memorial Stadium through Gate 3, and proceed to the finish at center of the football field.
Full Marathon
Continuing NE on Salt Creek Roadway to 14th Street, get on bike path which continues NE, go under underpass then across bridge and take an immediate right turn to head SE down the Antelope Valley Trail. Follow trail to Capitol Parkway, east on Capitol Parkway (name changes to Normal Blvd once past 27th St) to 70th Street at Holmes Lake. South on 70th, then east into the park to turnaround. Retracing route from turnaround back to Stadium Drive. Turn and go south onto Stadium Drive to the southwest entrance (Gate 3) of Memorial Stadium. Enter Memorial Stadium through Gate 3, and proceed to the finish at center of the football field.
Time Limits
---
The Marathon Course is open for 6.5 hours (7 AM to 1:30 PM). While every effort is made to accommodate runners and walkers of all abilities, there will be a specific time limit for particiapants to reach each mile mark on the course. Participants may be directed to the sidewalks if they are not within the established pace for each location.
All participants must abide by the instructions given to them by the Course Volunteers, Event Staff and local law enforcement.
All Marathon participants must reach the Marathon Halfway Checkpoint (approximately 12.8 miles) within 3.5 hours. Participants will not be permitted to continue on to the 2nd half of the Marathon Course if they do not reach this point by 10:30 AM. They will be directed to finish as a Half Marathon participant.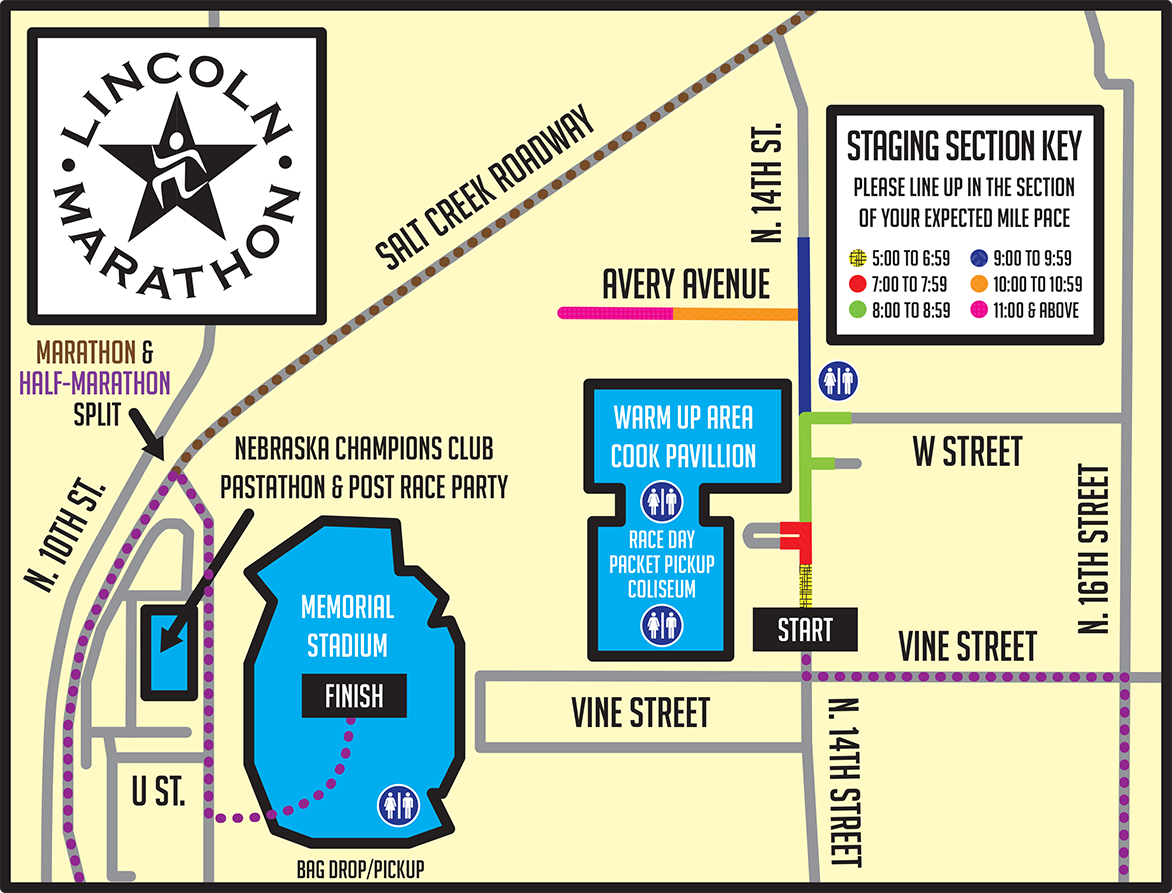 Aid Stations
Aid stations along the course are never more than 2.5 miles apart. Water, Gatorade, and ice are available at each station. GU Gel and orange slices are provided on the last half of the Marathon route.
Medical Support
Medical assistance is available at each of the aid stations and at the finish. In order to provide as complete medical care as possible, we ask that you notify the medical director of any chronic medical condition you may have. This includes any medical condition that you see a health practitioner for on a regular basis, any medication you are taking and, of course, any allergies you may have. This information is kept confidential by medical personnel and is discarded after the race. To insure your privacy please send this information directly to the Marathon Medical Director at 6232 So. 29th Circle, Lincoln NE 68516.
Finish Line
The finish line is the 50 Yard Line of Memorial Stadium, home of the Nebraska Cornhuskers.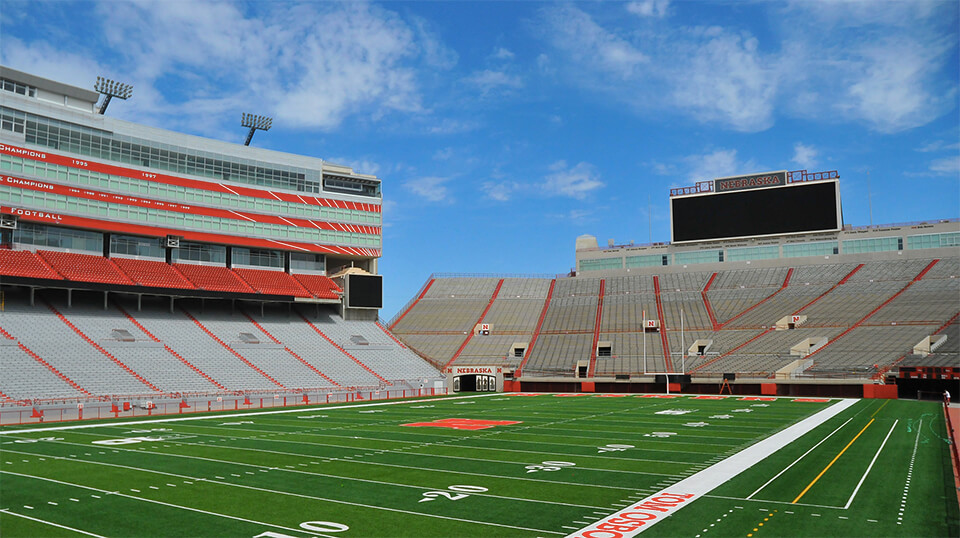 Weather
Average low at starting time is 45 degrees, average high at finish is 55-60 degrees.